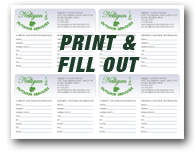 We are proud to offer you a very competitive lawn mowing rate for the 2010 season!!While we understand that each and every home owner is different than the next, it IS possible to get your lawn mowed the way you want it, not the way that saves the lawn crew time!! We are family-owned and operated - which means we treat your lawn like our own.

For Every new referral that signs a contract with us and they identify you as the source, we will discount your weekly cost by $2 per cut - up to FREE LAWN CARE ALL SEASON just for recommending your neighbors to us!

Other services we are proud to offer:
Full service weekly mowing
Mulch installation & Delivery (1 FREE yd on 4 yds or more)
Weekly weeding
Spring and Fall clean-ups
Sprinkler repairs & winterizations
Landscape design & installation
Stamped concrete walkways & patios
Custom designed flagstone patios with fire pits
Deck building
Finished basement constructios - see photos
Kitchen & bathroom remodeling - see photos
Wet bar design & construction
Plumbing
Commercial & residential snow plowing
The lawn maintenance business is very competitive today. We understand that to remain a viable company, we need to offer competitive rates to each home owner and truly be their "one stop shop" to meet all needs and wants.
Contact us to be placed on our 2010 lawn schedule - high in demand Thursday/Friday cuts are available to those who sign up first.